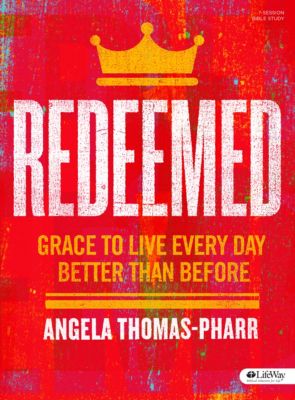 Join us Tuesday mornings for Bible study, worship, prayer and fellowship! 
We will begin an exciting new study, "Redeemed" by Angela Thomas-Pharr on January 10th! By filling out the registration form below, you will help us to plan accordingly for books and childcare. You may also call the church office to reserve your spot at 770-227-5974. Thank you!
Tuesday mornings, 9:30 – 11:30 am, Jan 10th-April 11th
Oak Hill Activity Center
Study books are $14 each, available on Tues Mornings
Childcare available by registration (opens at 9:15 am)
The moment you accept Jesus as the Lord over your life, you are redeemed. As the redeemed, we experience a lifelong journey of being transformed into His image. As redeemed women, we grow in the grace of Christ, and He calls us to extend grace to others.
In this 7-session Bible study, Angela Thomas-Pharr explores the practical side of redemption, inviting us to lean upon Jesus for our real help and hope.
__________________________________________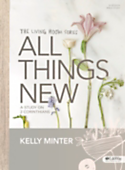 We will begin a study on 2 Corinthians called, "All Things New", by Kelly Minter on February 21st. Sign-ups will begin in February.
Over 8 sessions, Kelly Minter will lead you through the Letter of 2 Corinthians, exploring the anchoring truths of bearing treasures in jars of clay, meeting Christ through a pressing thorn, opening wide your heart in the midst of hurtful relationships, and what it means to embrace the lost and lonely as ministers of the new covenant. Each of us has a message to proclaim and live by: Because of Jesus the old has gone, the new has come.
Registration Form